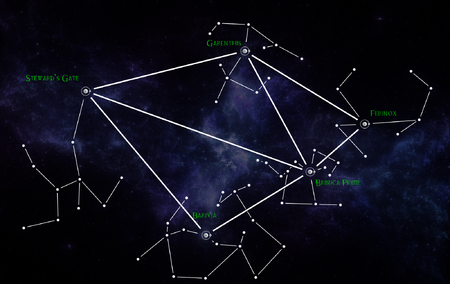 Located above the galactic plane and neighboring both Sector Corgus and Sector Deus, Paxia is sparsely populated and has only a handful of habitable worlds. It has a relatively strong Imperial Navy presence for it's population due to the value of strategic mineral resources in the uninhabited systems of the sector.
Populated Systems
Edit
Steward's Gate - Imperial Navy stronghold and anchorage, rumored Gateway to Sector Corgus from Paxia. This system is also the nearest to Sector Deus.
Brinica Prime - Hive world and seat of the Sector Governor for the last six generations.
Garenthis - Homeworld of the Aurex family. Heart of a massive, multi-system mining operation to pay the world's tithe to the Imperium.
Barivia - Homeworld of Elise Eberhardt. A mountainous Agri world, Barivia's twin moons contain seas and host a healthy supply of edible life.
Ferinox - A sparsely populated world due to only several decades of settlement. This world is notable for the massive forests that spawl across it's surface.
Ad blocker interference detected!
Wikia is a free-to-use site that makes money from advertising. We have a modified experience for viewers using ad blockers

Wikia is not accessible if you've made further modifications. Remove the custom ad blocker rule(s) and the page will load as expected.